CLICK TO RETURN TO ALPHABETICAL PRODUCT INDEX ON HOME PAGE


View Shopping Cart

WOMAN OF VALOR WOOL PRAYER SHAWL - TALLIT - PRAYER SHAWLS
This Brand New 47" x 72" Kosher Talis is made in Israel. It features the following 2 scriptures- "Clothed with strength and dignity, she can laugh at the days to come. --Proverbs 31:25. "She opens her hand to the poor. She reaches out her hands to the needy." --Proverbs 31:20
FAST USA SHIPPING!
Prayer Shawl are often called Tallit, talit, tallits, tallit, Prayer Shawl, Jewish prayer Shawls, Hebrew Prayer Shawl, Tallit Katan, Tallis, Talis, Talleisim and are sometimes used in Prayer Shawl ministry. The Shofar Man has beautifully knitted Prayer Shawl in every imaginable Prayer Shawl pattern for men as well as Tallit for women.
BIG DOUBLE SIZE
47" Woman of Valor Wool Tallit
# TAL47WOMEN
$107.77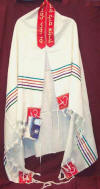 Talis: Wool
Fringes: Wool
Tzitzit: Wool
Attention International Customers
Shipping prices on the shopping cart are for United States customers only. Before placing an order to be shipped Outside the United States you will need to phone or email your order to us to obtain a shipping quote. Once we have your order and your approval on the shipping method and shipping amount we will send you an invoice for payment. email to: shofarorders@gmail.com or call 219-762-7589.
Add a Matching Velvet Bag for $17.77

New Woman of Valor Tallit Available in Smaller 24"x72" Size
Only $77.77
Click Here For Details