CLICK TO RETURN TO ALPHABETICAL PRODUCT INDEX ON HOME PAGE


View Shopping Cart

BLOW THE SHOFAR IN ZION TALLIT PRAYER SHAWL

This tallit features a Rabbi covered in a Tallit blowing the Shofar towards the mountains. The Atarah (collar) says in English "Blow the Shofar in Zion and sound an alarm in my holy mountain." Joel 2:1 The four corners feature a picture of a Rams Horn Shofar with "Blow the Shofar in Zion" in English and in Hebrew. The TzitTzit (tassles) feature the blue Techelet Thread representing the Shamash (servant) The Messiah Yeshua. 24" wide by 72" long. Made of high quality acrylic which has a soft linen feel. FAST USA SHIPPING!

24" Blow the Shofar Tallit
# TAL24BLOW
$73.33

Front View Back View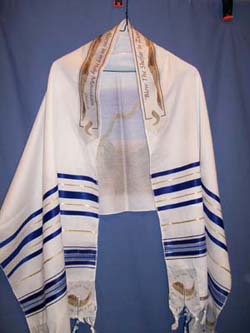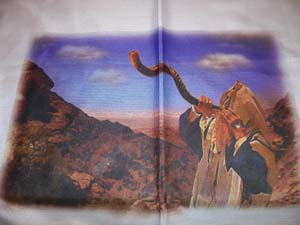 Atarah Rams Horn Shofar on corners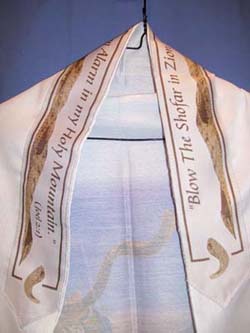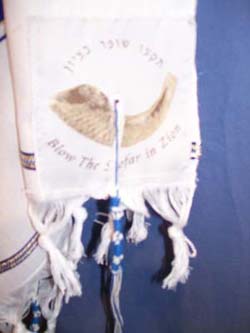 Attention International Customers
Shipping prices on the shopping cart are for United States customers only. Before placing an order to be shipped Outside the United States you will need to phone or email your order to us to obtain a shipping quote. Once we have your order and your approval on the shipping method and shipping amount we will send you an invoice for payment. email to: shofarorders@gmail.com or call 219-762-7589.
****** Special Offer ******
You can purchase a deluxe embroidered bag for 50% off, when you purchase at the time of buying this tallit
You can choose from the following 3 styles:
Available in Blue or Black
Blow the trumpet in Zion tallit, blow the trumpet in Zion prayer shawl, blow the shofar tallit, Christian prayer shawl, messianic tallit, tallit, talit, tallits, tallit, prayer shawl, Jewish prayer shawls, Hebrew prayer shawl, Tallis, Talis, Talleisim, prayer shaw.