Jewish Book of Why 2
$24.99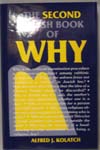 CLOSEOUT 50% OFF ALL BOOKS ON THIS PAGE.
TO GET THE 50% OFF YOU MUST PLACE YOUR ORDER BY PHONE AT 219-762-7589.
Why is the artificial insemination procedure a controversial subject among rabbinic authorities?
Why is the unborn fetus not considered a "person" in Jewish Law?
Why do some Jews believe that the idea of a Chosen People should be discarded?
Why is it not possible for a person to be half-Jewish?
Rabbi Alfred J. Kolatch deals with the more complex, controversial, and far-ranging subjects.