PINK BAT MITZVAH TALLIT AT LOWEST PRICES - ONLY $37.77

Largest selection of Bat Mitzvah tallits, in both traditional and modern styles in every size, color and fabric. Made by Israel's best weavers.
FAST USA SHIPPING!
Prayer Shawl are often called Tallit, talit, tallits, tallit, Prayer Shawl, Jewish prayer Shawls, Hebrew Prayer Shawl, Tallit Katan, Tallis, Talis, Talleisim and are sometimes used in Prayer Shawl ministry. The Shofar Man has beautifully knitted Prayer Shawl in every imaginable Prayer Shawl pattern for men as well as Tallit for women.
The Shofar Man is your source for Bat Mitzvah tallit, Bat Mitzvah tallits, Bat Mitzvah tallitot, Bat Mitzvah talit, Bat Mitzvah prayer shawl, Bat Mitzvah prayer shawls, girls tallit, girls tallits, girls tallitot, girls talit, girls prayer shawl, girls prayer shawls, tallit for bat mitzvah, tallit for girls, prayer shawl, tallit, prayer shawls, tallits, talit.
Acrylic Tallit for Bat Mitzvah
$37.77 - Same Low Price For Any Size
Choose from 13x64", 18x72", or 24x72"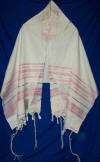 Pink/Silver
This Brand New Kosher Talis is made in Israel by the Mishkan Hatchelet Company, meeting the strictest standards of Jewish Law. The tag attached to it is provided by the manufacturer and certifies it as Kosher.
Talis: Acrylic & Polyester
Fringes: Acrylic
Tzitzit: Wool