EMBROIDERED MATRIARCHS EMANUEL TALLIT - PRAYER SHAWL - TALLIS - TALIS - TALIT
The Shofar Man carries artist Yair Emanuel's 3 piece tallit set including - talit, kippah, and talis bag. They are made in several exclusive designs in vivid and harmonious colors using several techniques including painting on silk, hand embroidery, and raw silk appliqué.
Fast USA Shipping!!
Prayer Shawl are often called Emanuel Tallit, Prayer Shawl, Silk Prayer Shawl, Tallit, embroidered tallit, Prayer Shawls, Tallits, The Prayer Shawl, talit, tallit Prayer Shawl, Jewish prayer Shawls, Hebrew Prayer Shawl, colorful tallit, colored tallit, tallit shawl, Jewish tallit, tallit art, beautiful tallit, modern tallit, Tallit for women, Jewish gifts, Jewish store, Judaica stores, Judaica gifts, Judaica gifts.

21" Embroidered Matriarchs Tallit w/ Bag & Kippah
$197.77
***OUT OF STOCK***
Attention Customers
All orders that include the Free Gift Pack must be placed by telephone at 219-762-7589.
This Brand New 21" x 77" Talis is made by Emanuel. The Talis comes with a matching Talis Bag and Kippah.
This is a special Talis for the Jewish woman. It is decorated with the flowers of Israel. You can find the names of the four mothers - Sara, Rebecca, Rachel, and Lea - on the corners of the Talis, decorated as initials in the style of old manuscripts. When you put on this Talis, you will feel connected to the four mothers, the source of the Jewish Nation. Hand-woven wool blend with embroidered neckband, panels, and corners.
Each Talis by Emanuel is an original, handmade work of art. No two are identical.
FREE PRAYER SHAWL
24x72" Traditional Lightweight Tallit
(A $50 Value)
Available in 10 Colors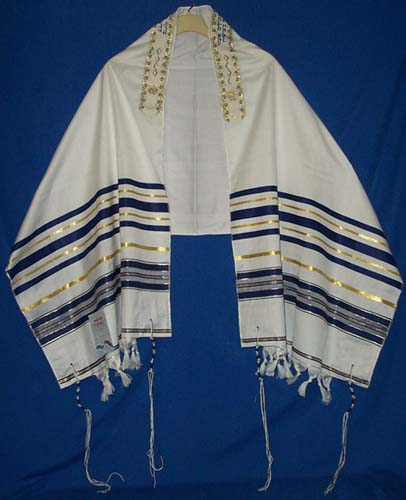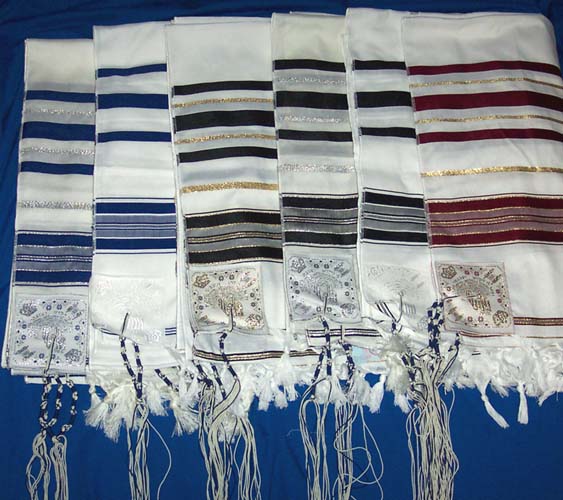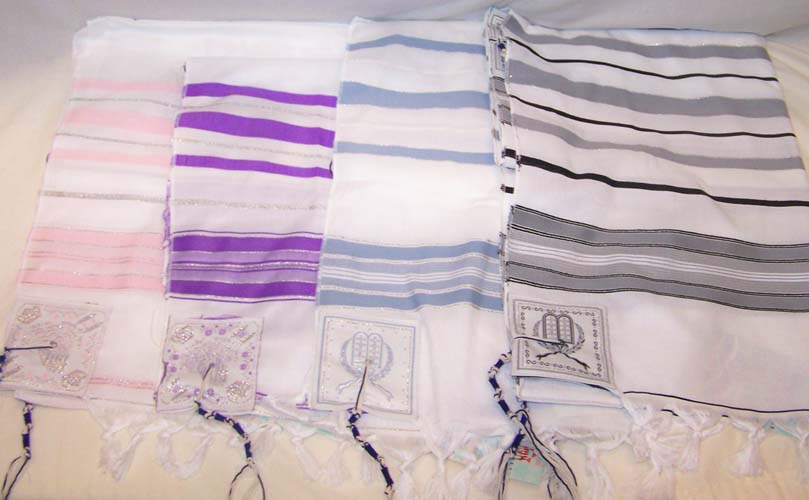 The above prayer shawl is free with the purchase of any prayer shawl on this page priced at $60 or more. Color will be determined by availability at the time of filling your order. You can pick your first and second choice of color, and we will honor it if we can. If no choice is indicated, we will select one for you.
Free Prayer Shawl (A $50 Value)
Free Audio Tape (A $7.00 Value)
Free Shipping (A $25.00 Value*)
Value of All FREE GIFTS When You Purchase Select Shofar Man Tallits is $83.00.
*Our major competitors are located in Israel. This shipping value represents the minimum you would pay to have a tallit shipped from Israel.