MESSIANIC SCRIPTURES PRAYER SHAWL - TALLIT - PRAYER SHAWLS
Specially designed with a Christian/Messianic meaning. Features the roots symbol (the ancient Messianic symbol) and a scripture on each of the four corners.
FAST USA SHIPPING!
Prayer Shawl are often called Tallit, talit, tallits, tallit, Prayer Shawl, Christian prayer shawl, Jewish prayer Shawls, Hebrew Prayer Shawl, Tallit Katan, Tallis, Talis, Talleisim and are sometimes used in Prayer Shawl ministry. The Shofar Man has beautifully knitted Prayer Shawl in every imaginable Prayer Shawl pattern for men as well as Tallit for women.
For a Limited Time - Receive the Free Gift Pack at the bottom of this page with tallit purchase.

Messianic Tallit w/ Scriptures on Four Corners
$77.77 - $97.77
Available in Two Sizes:



22" x 72"
Blue #TAL24MESS
Purple #TAL24MESSPUR
Pink #TAL24MESSPNK
33" x 73"
Blue TAL33MESS
Talis: Acrylic & Polyester
Fringes: Acrylic
Tzitzit: Wool
Attention Customers
All orders that include the Free Gift Pack must be placed by telephone at 219-762-7589.
These Brand New Talis are made in Israel.
Specially designed with a Christian/Messianic meaning.
Features the roots symbol (the ancient Messianic symbol) and a scripture on each of the four corners. Those scriptures are:
2 Corinthians 5:21 - For He made Him who knew no sin to be sin for us, that we might become the righteousness of God in Him.

Isaiah 53:5 - But He was wounded for our transgressions, He was bruised for our iniquities; he chastisement for our peace was upon Him,
And by His stripes we are healed.

Matthew 14:36 - And they desired of Him that they might only touch the hem of His garment. And as many as touched it were made perfectly well.

Malachi 4:2 - But to you who fear My name The Sun of Righteousness shall arise with healing in His wigs

.
The Atarah (neckband) has the Messianic Symbol in gold metallic on both sides and has a Messianic prayer in Hebrew which reads:
Blessed are you O' Lord King of the Universe Who has fulfilled all of the law through Jesus the Messiah and has covered us with His righteousness.
The Hebrew Pronunciation is:
BARUCH ATAH ADONAI ELOHENU MELECH HA' OLAM ASHER MILLA ET KOL
HATORAH BIYASHU' HAMASHIAH IKISSA ET KULANU VETSEDKATO
The Meaning of the prayer shawl for Jews (The Traditional Meaning) has to do with receiving righteousness through the laws of Moses since the shawl means the law, but t
he meaning of the Prayer Shawls for Believers in Yeshua (Jesus Christ) is different since Jesus has fulfilled all the law and we can only receive righteousness through Him meaning that we are covered with His
righteousness. Th
e scriptures declare that " All have sinned and fall short of the glory of God." So we now receive righteousness through the sacrifice that Yeshua (Jesus Christ) made in bearing all of our sin on Himself.
This Talis comes with the blue tekhelet already tied in. (Tekhelet is not from the sea snail.)

The color of the blue tekhelet on these garmets will vary from a medium, royal blue to a darker navy blue. You can see this difference by looking at the blue tekhelet on the blue /gold tallit and comparing them to the blue tekhelet on the pink or purple tallit.
And the L-rd spake unto Moses, saying, Speak unto the children of Israel, and bid them that they make them fringes in the borders of their garments throughout their generations, and that they put upon the fringe of the borders a ribbon of blue: And it shall be unto you for a fringe, that ye may look upon it, and remember all the commandments of the L-rd, and do them; and that ye seek not after your own heart and your own eyes, after which ye use to go a whoring: That ye may remember, and do all my commandments, and be holy unto your G-d. I am the L-rd your G-d, which brought you out of the land of Egypt, to be your G-d: I am the L-rd your G-d. --Numbers 15:37-41
FREE PRAYER SHAWL
24x72" Traditional Lightweight Tallit
(A $50 Value)
Available in 10 Colors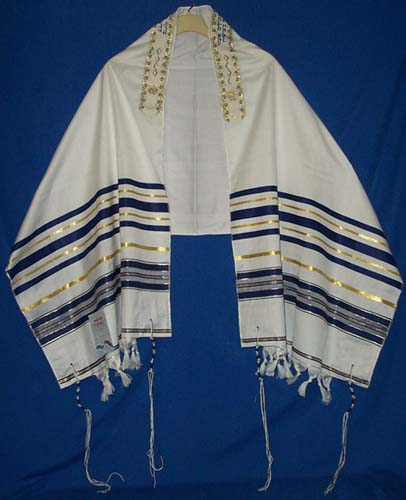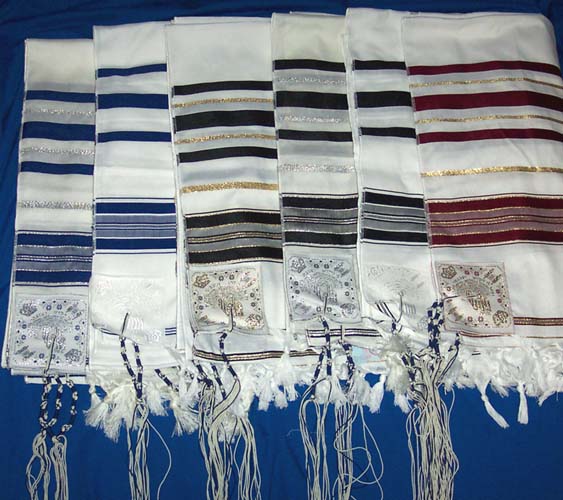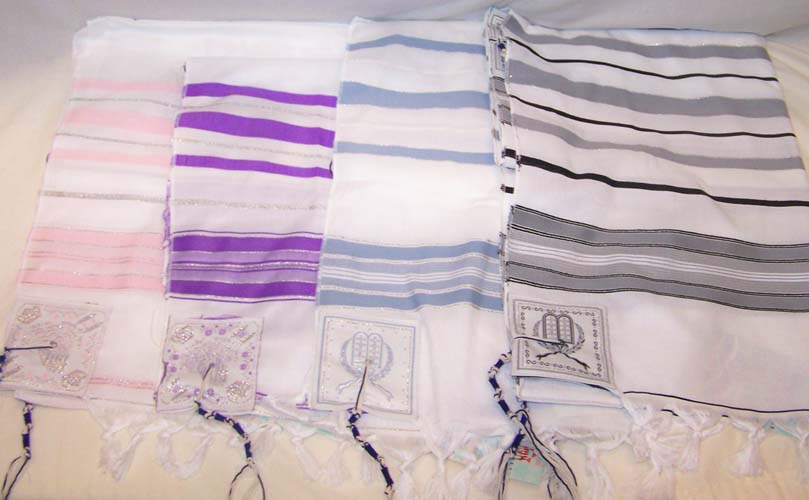 The above prayer shawl is free with the purchase of any prayer shawl on this page priced at $60 or more. Color will be determined by availability at the time of filling your order. You can pick your first and second choice of color, and we will honor it if we can. If no choice is indicated, we will select one for you.
Free Prayer Shawl (A $50 Value)
Free Audio Tape (A $7.00 Value)
Free Shipping (A $25.00 Value*)
Value of All FREE GIFTS When You Purchase Select Shofar Man Tallits is $83.00.
*Our major competitors are located in Israel. This shipping value represents the minimum you would pay to have a tallit shipped from Israel.