CLICK TO RETURN TO ALPHABETICAL PRODUCT INDEX ON HOME PAGE

---
---
Close Out
Messianic Tallit & Bag w/ Scriptures on Four Corners 33" x 73"
These Royal Blue Tallits are being Closed Out as Seconds. The flaws include snags, thread pulls, slight stains and slight discolorations. On these seconds, while our limited supply lasts, Our normal Low price of $67.77 is being Reduced to Only $27.77 plus shipping.
Close Outs have No Returns for any reason!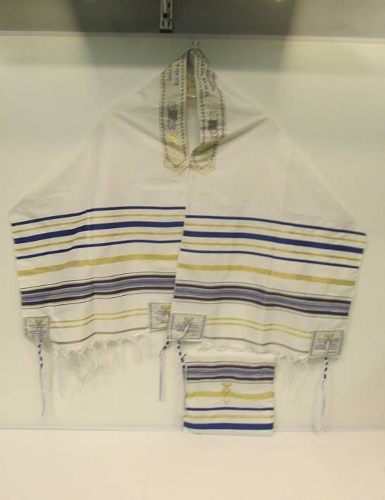 $27.77 - #TAL33MESCLOSE
Features the following Scriptures

2 Corinthians 5:21 - For He made Him who knew no sin to be sin for us, that we might become the righteousness of God in Him.
Isaiah 53:5 - But He was wounded for our transgressions, He was bruised for our iniquities; he chastisement for our peace was upon Him, And by His stripes we are healed.
Matthew 14:36 - And they desired of Him that they might only touch the hem of His garment. And as many as touched it were made perfectly well.
Malachi 4:2 - But to you who fear My name The Sun of Righteousness shall arise with healing in His wigs.

The Atarah (neckband) has the Messianic Symbol in gold metallic on both sides and has a Messianic prayer in Hebrew which reads:
Blessed are you O' Lord King of the Universe Who has fulfilled all of the law through Jesus the Messiah and has covered us with His righteousness.
The Hebrew Pronunciation is:
BARUCH ATAH ADONAI ELOHENU MELECH HA' OLAM ASHER MILLA ET KOL
HATORAH BIYASHU' HAMASHIAH IKISSA ET KULANU VETSEDKATO

This Talis comes with the blue tekhelet already tied in. (Tekhelet is not from the sea snail.) . Messianic Prayer Shawl not made in Israel

Talis: Acrylic & Polyester
Fringes: Acrylic
Tzitzit: Wool