PRAISE FLAGS - WORSHIP FLAGS - PRAISE AND WORSHIP FLAGS - VIDEO / DVD'S
The Shofar Man is your connection
FOR: Praise Flags, Praise and Worship Flags, Worship Flags, Christian Flags, Praise Banners, Worship Streamers, Flag Worship, Flag Ministry, Worship Banners and much much more.

PRAISE AND WORSHIP FLAGS
HIGH QUALITY 36" x 46" SILK
12 COLORS AVAILABLE:
RED (Warfare, Blood of Jesus)
ORANGE (Praise, Fire of God)
YELLOW (Presence of God)
GREEN (Healing, New Beginnings)
BLUE (Grace, Mercy, Holy Spirit)
LIGHT BLUE (Grace, Mercy, River of Life)
PURPLE (Royalty, Kingship, Honor)
GOLD (Glory of God)
SILVER (Redemption, Strength, Faith, Truth)
WHITE (Purity, Innocence, Light)
BLACK (Righteous Judgment)
PINK (Passion for Jesus, Compassion, Joy)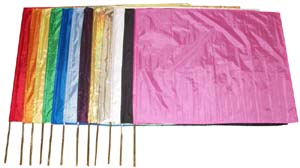 All flags include a 4 ft. strong, lightweight tubular metal pole. Pole features a clear coating on the handle for easy comfortable grip and velcro at the top and bottom of the pole to hold the flag in place. The top of the flag pockets are reinforced with heavy material to prevent the flags from tearing.
Red Praise Flag #FLAGRD
$24.99
Orange Praise Flag #FLAGOR
$24.99
Yellow Praise Flag #FLAGYL
$24.99
Green Praise Flag #FLAGGR
$24.99
Blue Praise Flag #FLAGBU
$24.99
Light Blue Praise Flag #FLAGLB
$24.99
Purple Praise Flag #FLAGPR
$24.99
Gold Praise Flag #FLAGGL
$24.99
Silver Praise Flag #FLAGSL
$24.99
White Praise Flag #FLAGWH
$24.99
Black Praise Flag #FLAGBK
$24.99
Pink Praise Flag #FLAGPK
$24.99
Purchase 6 Flags for $119.94
Attention International Customers
Shipping prices on the shopping cart are for United States customers only. Before placing an order to be shipped Outside the United States you will need to phone or email your order to us to obtain a shipping quote. Once we have your order and your approval on the shipping method and shipping amount we will send you an invoice for payment. email to: shofarorders@gmail.com or call 219-762-7589.