CHRISTIAN PRAYER SHAWL GIFT PACK- TALLIT - PRAYER SHAWLS - FREE TALLITS TEACHING CD

The Shofar Man carries a full line of scripture based prayer shawls with fast USA shipping! Including Flames of Pentecost, Roots, Queen Esther, Elijah, Elisha, Ruth, Women of Valor, Ruth, and much more. FAST USA SHIPPING!


Supplying the Army of God with high quality prayer shawls is our ministry

The Shofar Man has a huge, extensive inventory in stock in the USA. 99% OF OUR TALLITS ARE IN STOCK AT ALL TIMES! Same day shipping to most of USA in 3-4 BUSINESS days. To most parts of the world in 5-7 BUSINESS days.
Overnight and 2nd Day Air available upon request.
Prayer Shawl are often called Tallit, talit, tallits, tallit Prayer Shawl, Jewish prayer Shawls, Hebrew Prayer Shawl, Tallit Katan, Tallis, Talis, Talleisim and are sometimes used in Prayer Shawl ministry. The Shofar Man has beautifully knitted Prayer Shawl in every imaginable Prayer Shawl pattern for men as well as Tallit for women.
For a Limited Time - Receive the Free Gift Pack at the bottom of this page with every tallit purchased from this page.
Attention International Customers
Shipping prices on the shopping cart are for United States customers only. Before placing an order to be shipped Outside the United States you will need to phone or email your order to us to obtain a shipping quote. Once we have your order and your approval on the shipping method and shipping amount we will send you an invoice for payment. email to: shofarorders@gmail.com or call 219-762-7589.

24" Flames of Pentecost Tallit
# TALFLAME

Elijah the Prophet Tallit
# TAL47ELIJAH

24" Prophet Isaiah Tallit
# TAL24ISAPU

24" Prophet Isaiah Tallit
# TAL24ISABL

Elisha the Prophet Tallit
# TAL47ELISHA

Esther Tallit, For Such a Time As This #TAL45ESTHER
Ruth Tallit, Your People Shall Be My People #TAL47RUTH

Woman of Valor Tallit
#TAL47WOMEN

Messianic Tallit w/ Scriptures


24" Roots Acrylic Tallit
#TALROOTS

24" Blow the Shofar Tallit #TAL24BLOW


22" Healing Prayer Shawl
#TAL22HEAL

FREE PRAYER SHAWL
24x72" Traditional Lightweight Tallit
(A $50 Value)
Available in 10 Colors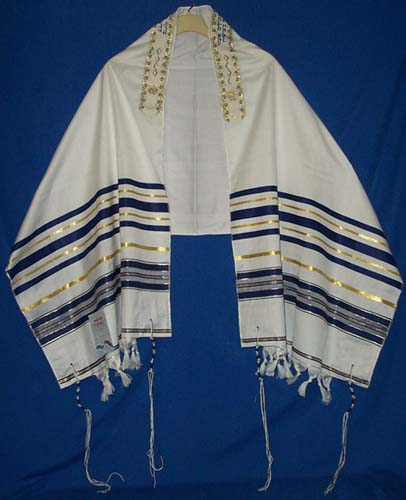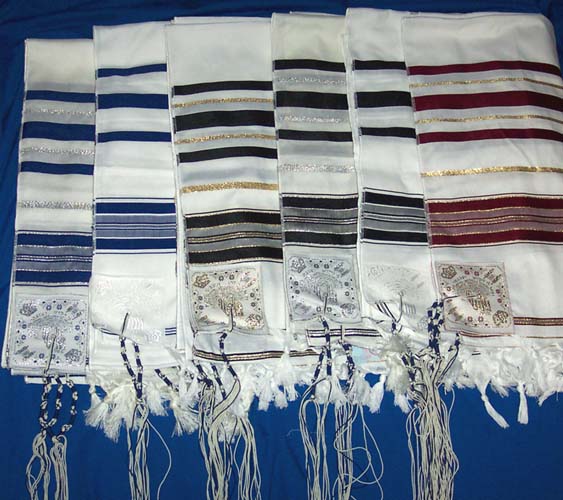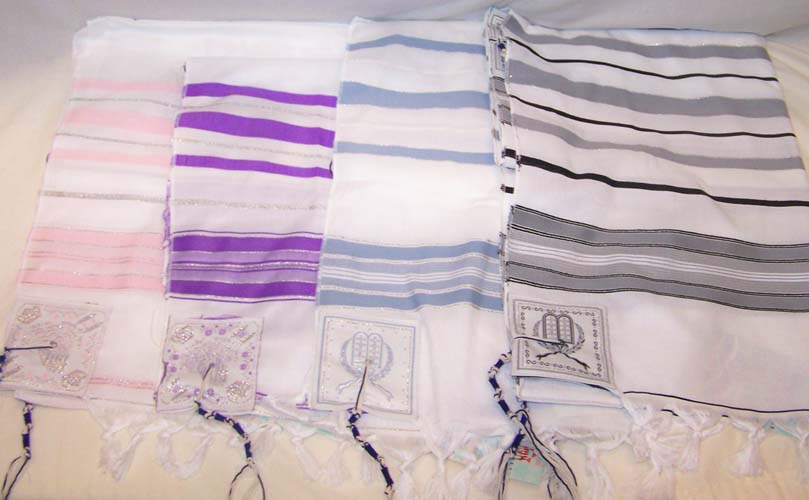 The above prayer shawl is free with the purchase of any prayer shawl on this page priced at $60 or more (does NOT apply to prayer shawl kits). Color will be determined by availability at the time of filling your order. You can pick your first and second choice of color, and we will honor it if we can. If no choice is indicated, we will select one for you.
Free Prayer Shawl (A $50 Value)
Free Audio Tape (A $7.00 Value)
Free Shipping (A $25.00 Value*)
Value of All FREE GIFTS When You Purchase Select Shofar Man Tallits is $83.00.
*Our major competitors are located in Israel. This shipping value represents the minimum you would pay to have a tallit shipped from Israel.
Prayer Shawls - Bulk Discount / Wholesale